I Can
Help

If Your Worker's

Compensation Claim

Was

Denied
Almost all Wisconsin workers are covered by worker's compensation for a job-related injury. Yet all too often, claims are denied for various reasons. This is a stressful situation if you have no income or can't get the medical treatment you need.
Call the Law Office of Lisa A. Wiebusch LLC if your claim has been rejected or you are getting the run-around from the insurance company. I will help you appeal the denial and help you maximize your recovery. I have been fighting for injured workers for over 30 years.
Why Did They
Deny My Claim

?
The employer or the insurance company may contest a claim or withhold benefits until they receive additional information. The following are the common reasons that workers' comp claims are denied or delayed:
Sometimes an employee is not sure how the injury occurred or doesn't want to risk losing their job. So they suffer silently until it gets so bad they need invasive treatment or time off from work. Insurers pounce on any delay in reporting the injury or seeking medical care. It is important to convey to the doctor that the injury is job-related. Tell them what kind of work you do and what happened, and describe all your symptoms so the medical records support your worker's compensation claim.
What Are
My Legal

Remedies?
Sometimes additional documentation will satisfy the employer or the insurer. If you are still not approved for benefits – or if you are not receiving full benefits – we can request a hearing before the Worker's Compensation Division. An administrative law judge will consider the evidence in your case, including any new medical documentation.
I have successfully represented people across the state of Wisconsin in worker's compensation claim hearings and appeals. I know what medical proof will shore up your claim and how to prepare you for the hearing.
You Can
Count On Me

To

Fight

For You
Appealing a denied claim can be intimidating, but your health and your livelihood are at stake. My practice is centrally located in Wausau so that I can represent employees statewide. Schedule a free consultation today at 715-298-2244 or contact me online.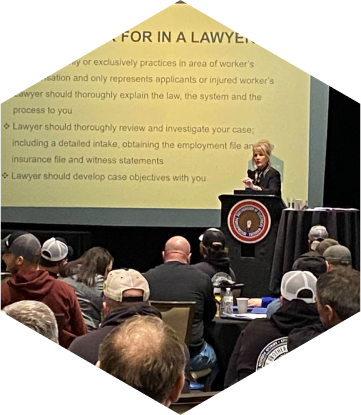 Attorney Lisa Wiebusch presenting at the IBEW Stewards Conference May of 2022

Call my Wausau law office at 715-298-2244 or email me. I represent injured workers in any occupation and statewide.
Put my three decades of experience to work for you