Occupational Disease / Repetitive Stress Claims
When The
Job

Itself Causes


Injury

Or

Illness
There is not always a specific accident or incident you can point to. Everyday job duties and working conditions can take a toll over time, developing into a disabling injury or serious illness.
These injuries, known as occupational diseases, are covered by worker's compensation. But it can be tricky to prove that your ailments are work-related. Employers and their insurers are often skeptical or downright hostile to such claims.
I am worker's compensation attorney Law Office of Lisa A. Wiebusch LLC. I have helped workers across Wisconsin qualify for wage benefits and permanent disability benefits for overuse injuries and other occupational disease claims.
Occupational

Disease And

Repetitive Stress

Injuries
The Wisconsin Worker's Compensation Division defines occupational disease as a physical or mental condition caused by an appreciable period of work exposure over a period of time. Examples include:
Such injuries and illness can be painful and debilitating. Under worker's compensation, you are entitled to medical and wage benefits the same as any work injury.
Did Your
Work Injury

Develop

Gradually

?
If you think you have an occupational disease claim or if your claim has already been denied, call my Wausau office at 715-298-2244 or email me. I handle worker's compensation cases statewide in Wisconsin, starting with a free initial consultation.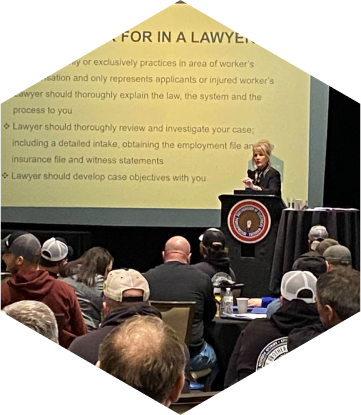 Attorney Lisa Wiebusch presenting at the IBEW Stewards Conference May of 2022

Call my Wausau law office at 715-298-2244 or email me. I represent injured workers in any occupation and statewide.
Put my three decades of experience to work for you