An Experienced
Workers' Compensation

Lawyer Representing

TBI Victims

in Wisconsin
Traumatic brain injuries, also known as TBIs, are among the most serious injuries you can sustain. Even mild TBIs can leave victims with long-term issues that can affect their daily lives, and severe TBIs may result in issues that prevent people from working or even living alone.
When people sustain TBIs at work, they are typically entitled to benefits through their employers' workers' compensation insurance. That said, obtaining workers' compensation benefits can be an uphill battle, as insurance companies always try to settle cases for as little as possible. In fact, if they can find any way to justify denying your claim altogether, they will.
Fortunately, as an injured worker, you have rights. One of these rights is to retain an experienced attorney like Lisa A. Wiebusch to advocate on your behalf during your workers' compensation claim. An experienced attorney can file your claim for you and attempt to negotiate a fair settlement that gets you the benefits you deserve under Wisconsin law. To schedule a free case evaluation with a Wisconsin workers' compensation lawyer, call our office today.
TBIs Can Happen
Where You

Least

Expect It
When most people think of traumatic brain injuries (TBIs), they often associate them with high-risk occupations like construction, manufacturing, or professional sports. While it's true that these industries carry an elevated risk of TBIs, it's essential to understand that TBIs can occur anywhere, even in seemingly safe and low-risk work environments. For example, TBIs can affect people in the following lines of employment:
What Kinds
of Accidents

Cause

TBIs

?
TBIs can happen in a wide variety of accidents, including those that may not seem like they could cause serious injuries. Some of the more common accidents that can result in traumatic brain injuries include:
TBIs
Can Cause

Long-Term

Problems
Traumatic brain injuries (TBIs) are not just immediate medical concerns; they can have far-reaching consequences that affect an individual's life for years to come. In many cases, victims cannot return to work for weeks or months – if they can return at all.
While the severity of a TBI can vary, it's essential to understand that even seemingly minor head injuries can lead to long-term problems. Some of the more common issues that TBIs can cause include the following:
Protecting
Your Rights

after a

Work-Related TBI
If you sustain a brain injury while you are at work or engaging in a work-related task, if possible, you should take certain steps to protect your rights. If you do not, you could make it easier for the insurance company to deny your claim or minimize your workers' compensation benefits. Some of the most important steps to take after suffering a TBI at work include:
Suffered a
TBI at Work?

Call a

Wisconsin Worker' Compensation

Lawyer Today
If you have sustained a traumatic brain injury while at work, you should contact an attorney as soon as you can. Attorney Lisa A. Wiebusch has been helping injured workers get the benefits they deserve for more than 30 years and knows how to get workers' compensation insurers to pay up. To schedule a free case evaluation with Ms. Wiebusch, call our office today or send us an email through our online contact form.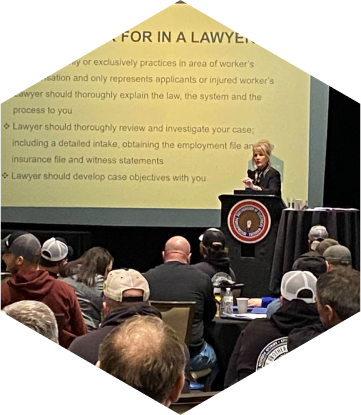 Attorney Lisa Wiebusch presenting at the IBEW Stewards Conference May of 2022

Call my Wausau law office at 715-298-2244 or email me. I represent injured workers in any occupation and statewide.
Put my three decades of experience to work for you